Year In Review
Airservices year in review
In 2018–19, we focused on delivering distinctive value to our customers and industry, while keeping our skies safe and minimising the impacts of our operations on the community and the environment.
1,034*
Operational air traffic controllers
858*
Operational aviation rescue firefighters
11%
of the earth's airspace, managed by 2 Air traffic control centres
29
Air traffic control towers
26
Aviation rescue firefighting service stations
Our Purpose
We provide safe, secure, efficient and environmentally responsible services that are valued by the aviation industry and community.
Managing Complexity
2 of the top 20 busiest routes globally.
OAG Punctuality League 2019: 12 months to February 2019
+4M
Air traffic movements
+160M
Passenger movements
0.0
Significant Attributable Safety Occurrences
468
Aircraft occurrences responded to by aviation rescue firefighters
32
Times our aviation rescue firefighters supported local communities in times of emergencies
42 seconds
Median arrival airborne delay
< 3.8 minutes
Arrival Airborne Delay experienced by 3 in 4 aircraft
99.9%
Aviation Rescue Fire Fighter Service readiness
2%
Price reduction introduced 1st July 2019
3,000
Low‐volume general aviation operators provided services at no cost
$2.5M
In fees waived for not-for-profit aeromedical operators
We made customer-centric decisions and continuously improved our business.
1.2%
Growth in airways revenue
4.3%
Below target operating cost per instrument flight rules flight hour
11 point
Improvement in industry advocacy score*
13%
Improvement in lost time injury frequency rate
$62.4M
Net Profit After Tax
We embrace innovation and invest in technology to deliver valued outcomes to the industry.
Air Traffic Management service facilities in Sydney, Melbourne, Perth and Brisbane were switched over to the Civil Military Air Traffic Management (CMATS) voice communication system.
Commenced design and prototype of a Tower continuity service for Sydney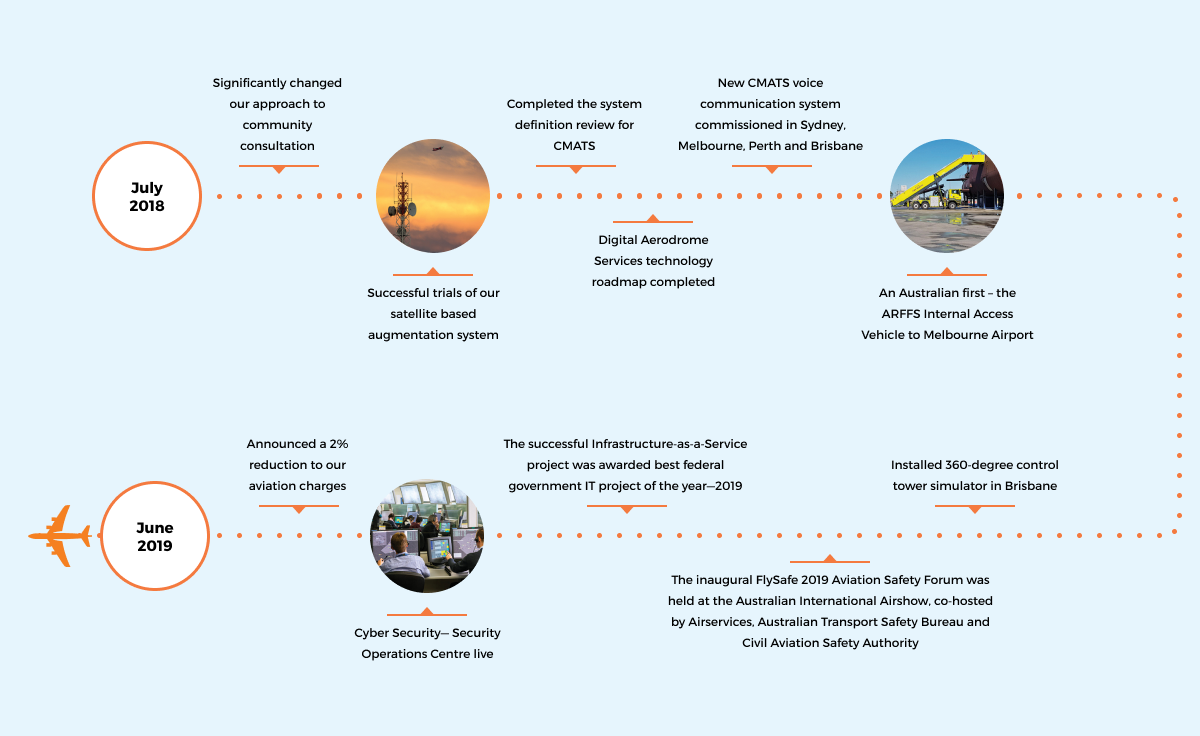 Our 3 Key Investment Programs
$1B+
of future benefits for the industry from OneSky
$52M+
of future benefits for the industry from A-CDM
$22M+
of future benefits for the industry from LR-ATFM