We are driving transformational change through our lines of business to deliver on our purpose – connecting people with their world safely.
Our lines of business
Our lines of business – Aerospace Services, Aviation Rescue Fire Fighting Services, and Enabling Services – support our ability to deliver products and services to our customers and to ensure we meet the needs of a changing aviation environment.
Our strategy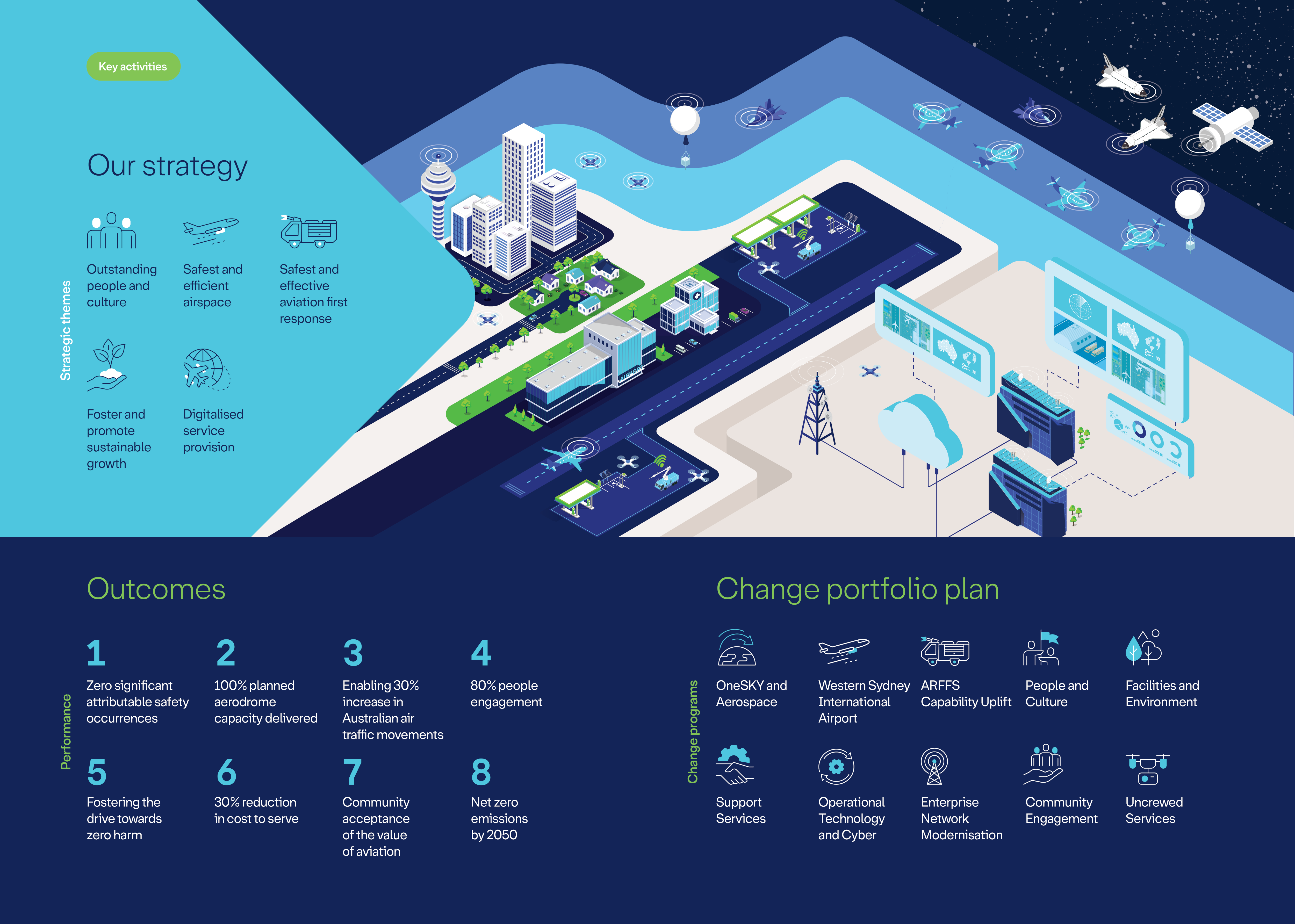 Click the image above to enlarge.
Our change portfolio plan
We are driving 10 change programs across our 3 lines of business, as we continue to connect people with their world safely.
OneSKY and Aerospace
Replace the 2 current independent civil and military air traffic management systems with a single advanced system through the Civil Military Air Traffic Management System (CMATS), improve aviation safety and efficiency through a standardised, modernised national airspace and transition our aerodromes to a digital platform.
Key initiatives:
OneSKY:

deliver a harmonised civil and military air traffic management system that enables us to meet Australia's air traffic management needs into the future, maintain Defence capability, and meet national security imperatives.
Western Sydney International Airport
Establish essential service delivery and supporting infrastructure to Western Sydney International (WSI) Airport. This will help position WSI Airport as a digitally-enabled international gateway and increase the aviation capacity of the Sydney basin.
Key initiatives:
Deliver a balanced outcome for all stakeholders while supporting industry expansion and infrastructure development at

Western Sydney International Airport

including the establishment of 24-hour Digital Aerodrome Service (DAS) and ARFF services.
People and Culture
People are our greatest asset and the key to our future success. We will enhance our offering as an employer of choice in a fast-paced digital world by revolutionising the employee lifecycle and attracting, retaining, and developing outstanding talent with digital capabilities. We will make sure our people are equipped to achieve our transformation goals and will strive to create an environment where people are proud to work; a place where everybody can reach their potential.
Key initiatives:
Leadership and culture:

we will be a leading place to work in Australia, through promoting a safe and inclusive place to work, cultivating courageous and authentic leadership, and strategically optimising our workforce and talent.
Aviation Rescue Fire Fighting Service (ARFFS) Capability Uplift
Transform our ways of working through new and emerging technologies in the ARFFS environment. This will improve safety for our people, be financially and environmentally sustainable, and be scalable to cater for customer and industry requirements.
Key initiatives:
Fleet replacement:

Fleet replacement: a transformation of our vehicle capabilities that drives both efficiencies in operations and the safety for our people. This ensures sustainability and long-term growth of ARFF services, with a strong focus on matching services to customer needs.

Fit for growth:

refresh our ways of working to enhance the safety of our people, ensure we are financially and environmentally sustainable, yet scalable and flexible enough to cater for the evolving needs of the industry and our customers.
Support Services
Build new capabilities across our support services and bring new opportunities for our people as we provide a more scalable and streamlined support for our front-line services.
Key initiatives:
Back-office enabling services transformation:

deliver a digitally enabled set of core business processes supported by a modern enterprise resource planning tool, improving the efficiency and efficacy of our enabling services.
Facilities and Environment
Provide a safe, inclusive, engaging, and sustainable work environment; demonstrate our commitment to our people and the environment, and the importance of both to deliver our valued services. We will leverage technology and data to automate processes and improve the management of our facilities.
Key initiatives:
PFAS remediation:

address the pollution legacy of our past use of fire fighting agents which included per- and polyfluoroalkyl substances (PFAS).

Environmental sustainability:

reduce our total environmental footprint by minimising our resource usage, reducing emissions and adopting sustainable practices.
Community Engagement
Transform our operations to be more resilient, clean and reliable to provide better outcomes for our communities through innovative designs, intelligent systems and best practice community engagement. Increase the capacity at our aerodromes to help drive the next 30 years of Australian economic growth, enabling an additional 73 million passenger movements per year.
Key initiatives:
Noise Action Plan for Brisbane:

identify opportunities to improve noise and operational outcomes in relation to Brisbane airport airspace changes, inform future changes, and contribute to the continual improvement of our flight path and airspace change management process.

Community engagement:

deliver best practice community engagement in line with evolving community and societal expectations, and our community engagement standard. This includes engagements with communities for Perth and Melbourne airport developments.
Operational Technology and Cyber
Uplift our capabilities in timely decision making, effective delivery of our services and gaining efficiencies in managing our aviation network, while maintaining a sufficient level of cyber-resilience to meet our needs in a changing environment.
Key initiatives:
Airport Collaborative Decision Making (A-CDM):

optimise airport operations through enhanced collaboration with customers by sharing real-time data and insights.
Enterprise Network Modernisation
Enable digitalised service provision with a next-generation telecommunications and surveillance network that is highly resilient, dependable, flexible and secure.
Key initiatives:
Enterprise Network Modernisation:

deliver a next-generation network designed for service expansion providing greater network bandwidth, security and resilience, enabling the introduction of new features and functionality, and a platform for future services. This is a key dependency for the OneSKY Program.
Uncrewed Services
Prepare our skies for the safe integration of uncrewed services. We are investing to deliver first-of-kind, digital and automated capabilities and services that will foster growth of uncrewed aircraft in shared airspace. Collectively, these capabilities will shape the future of our entire air traffic management system and will ensure we are prepared to manage the increasing growth and complexity of new airspace users.
Key initiatives:
We will operationalise

Uncrewed Services

in Australian airspace through the design and deployment of a Flight Information Management System that will be digital and automated capabilities that are the backbone to Australia's unmanned aircraft system (UAS) traffic management (UTM) ecosystem, deliver data sets that are of value to UAS operators and match their evolving needs, and enhance existing surveillance capabilities to detect UAS around airports and to help safely manage airspace.