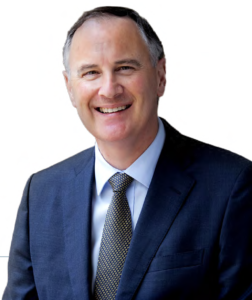 "We are on a journey to transform our business through digitalisation and automation to better support the industry we serve."
I am pleased to present the Airservices Australia 2021-22 Corporate Plan as required under section 35(1)(b) of the Public Governance, Performance and Accountability Act 2013 and section 13 of the Air Services Act 1995. This plan covers the period from 2021-22 to 2024-25.
The impact of the COVID-19 pandemic on the aviation industry continues to be felt across the globe, with the disruption to air travel experienced since March 2020 expected to continue throughout the duration of this plan. Domestically, while it has been pleasing to see air travel recover slowly to near pre-pandemic levels on some routes, international traffic remains a fraction of what it was before the pandemic and the trajectory to recovery is uncertain.
With frequent disruption to our operating environment as a result of COVID-19 expected to continue across the near term, we are actively monitoring and positioning Airservices to adapt and respond quickly to support our customers and partners, as they navigate unprecedented volatility.
Notwithstanding the ongoing impact of the pandemic, the aviation ecosystem continues to evolve at pace. The longer-term outlook for air traffic is positive, with traffic levels expected to increase steadily over the coming decades. Coupled with increased complexity introduced by emerging customers such as drone operators and other unmanned aerial vehicles, this underscores the need for our continued transformation to safely manage air traffic into the future.
As such we are on a journey to transform our business through digitalisation and automation, to enhance the efficiency and flexibility of our service delivery and better support the industry we serve.
We are partnering with industry to develop a Flight Information Management System (FIMS) to safely integrate new airspace users into our skies, commissioning digital aerodrome services in Canberra and Western Sydney, exploring space-based air traffic management technologies, and upgrading our telecommunications network to ensure we have the capacity, flexibility and security to meet future network demand, particularly for OneSKY.
The OneSKY Program underpins our transformation journey to deliver world-class air traffic management services into the future. In partnership with Defence, OneSKY will see the introduction of a worldleading integrated Civil Military Air Traffic Management System (CMATS). OneSKY will deliver more than $1.2 billion in economic benefits to the aviation industry, including enabling flexibility for airlines to fly more efficient routes, saving fuel and emissions and as a result, reducing flight times and delays for the travelling public.
We have made significant progress over the past year in establishing the foundations for a thriving, purpose and values-led workplace. Over the planning period we will continue to deliver on our commitment to transform our culture and build a stronger, more inclusive and diverse organisation, equipped to meet the challenges and opportunities ahead.
To conclude, at Airservices we are committed in supporting our customers and partners as we all navigate the ongoing challenges wrought by the COVID-19 pandemic, to ensure we continue to connect people with their world safely, today and into the future.


John Weber
Chairman