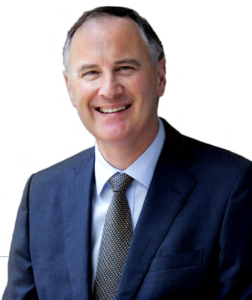 "COVID-19 has accelerated the pace and scope of Airservices existing transformation agenda."
I, John Weber, as Chairman of Airservices Australia, present the Airservices Australia 2020-21 Corporate Plan, which covers the period of 2020-21 to 2024-25, as required under section 35(1)(b) of the Public Governance, Performance and Accountability Act 2013 and section 13 of the Air Services Act 1995.
In our previous Corporate Plan, I outlined this organisation's response to the challenges and opportunities of an operating environment that was becoming increasingly busy and complex. The dramatic impact of the COVID-19 pandemic on the aviation industry across the globe has not only heightened industry disruption to an unprecedented level, it has also altered the very shape of it.
Our main focus in recent years has been on supporting a thriving aviation industry, with commercial air traffic expected to increase steadily to the year 2040. We have also been preparing our skies for the safe and productive integration of drones, aerial taxis and other new entrants. The current roadmap is very different. In a few short months, we have taken substantial steps to support a commercial airline industry that has been devastated by the impact of border closures and other stay-at-home measures.
Of course, our own financial performance mirrors that of our airline customers. There is no doubt that we must strive to be a leaner and ever more efficient organisation, as we support the industry in its return to health and beyond. While responding to the pandemic, we are also building the foundation for sustainable change.
Broadly speaking, COVID-19 has accelerated the pace and scope of Airservices existing transformation agenda. We were already on the cusp of a digital revolution and now we are preparing to meet it head-on. This includes exploring ways to accelerate the digitisation and automation of our services to improve the efficiency and flexibility of our service delivery model.
The pandemic has also provided an immediate opportunity to accelerate key investments, particularly those with a digital focus that will deliver greater value to our customers in the years to come. We are progressing the implementation of digital aerodrome services in Canberra and Western Sydney, and will continue our investment to integrate new aircraft types in low-level airspace. The OneSKY program remains on track for completion in 2025, delivering the world-leading integrated civil military air traffic management system for Australia that will yield $1.2 billion in economic benefits to our industry and customers over 20 years.
The final and most critical component of our journey to 2025 is the work we are doing to transform the organisation's culture. The success of such an ambitious transformation agenda is primarily dependent on our people's ability to deliver it. Thus, we remain focused on creating a thriving, engaged, inclusive, safe and scalable organisation that works in unison.
To conclude, there is no doubt that the path ahead will prove both challenging and rewarding. Airservices will continue to support our customers throughout the current challenging period, and stands ready to support the industry towards the future that lies beyond.


John Weber
Chairman